Austrian focus groups
As part of the Q&VET project, Quality Austria organized a work-shop with teachers and managers on the topic "Quality Assurance in Vocational Education". The work-shop took place in the Quality Austria Headquarter in Vienna, on the 8th of November 2013. The interviewed teachers/managers represented 3 different Austrian Higher Educational Institutes and 3 different Secondary Schools.
Following a presentation by Quality Austria about the project itself and about the outcomes of the online-questionnaire, two groups were formed.
One group discussed the hypothesis: "Teachers do not like to reflect on their own quality of work or are not willing to accept feedback genuinely". The main findings of the group-work on this topic have been:
1. Institutionalising of methods:
Personal Quality-assurance planning has to be institutionalised like training material, performance evaluation, dates, feed-back questionnaires;
Administrative support: by time-table and evaluation-plan which shows who has to be evaluated by whom and when and how; it should be responsibility of the management to check, if the evaluation plan has be fulfilled
 Quality Management should be regular feature of the school-conference about focal points of the school-year,  including discussion about the results of the feed-back questionnaire
QIBB (see explanation above) as one method for feed-back from students to teachers
2. Culture:
Students/pupils are customers!!! This should be part of the thinking of teachers
Teachers should treat pupils with respect and at eye-level; they should have faith on feed-back of students and take them seriously; feed-back of students is more honest as teachers think believe it to be-> trust in statements of students should be increased
Managers should be inspiring example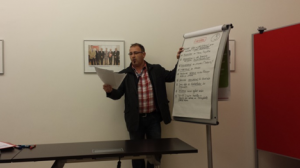 3. Communication:
Positive effective of feed-back for teachers should be pointed out to teachers
should be institutionalized; like annual appraisal meetings between managers and teachers;
Reduce administration work for teachers; Quality happens in the class-room
The second group discussed the hypothesis:
"Quality initiatives tend to get followed immediately by new ones, creating lots of restlessness within the organization as well as lack of time for good implementation"
The
main findings
of this group-work have been:
Clear vision and objectives of the institution; clear direction: what do I want to achieve and what is really needed to achieve my objective;
priorize and concentrate on only a few themes and projects, instead of doing a little bit of everything;  could take longer time but result is more consistent and effective
Also plan resources, especially time-resource; think about of how much time it will cost teachers to fulfil their duties
Show teacher which positive effect and benefit it will have on them and their work and the result of their work (win-win situation)
Timely communication to all involved parties but target group orientated
Quality-manager is mentor, coach and lobbyist, he has to inform target-orientated; but if he integrates teachers they should then have the possibility of co-determination
Personal relationship between managers and teachers supports commitment of teachers and positive result of the project
The participating teachers are the functioning as duplicators once they are convinced
Enhance affiliation of teachers by giving them the feeling of common responsibility for Quality-> quality culture is thus developed
Culture of error tolerance is essential; install frame-work for improvement and see errors as chance to improve together