"Working toward a shared perception on dealing with quality initiatives"
Working toward a shared perception on dealing with quality initiatives
"When our team received the new directions for administrating the participants in our courses we were actually quit amazed. What is all this administrative work good for any way?  Why do we need to change procedures again, and why do we now even need to administer more? What was wrong with the old ones? It takes away a lot of our time, time we are in short anyway all the time. This is not making our job easier and certainly our participants will definitely not benefit from this. Why don't they us when they try to come up with something new?
One of the reactions of one of the workshop participants which have been contributing to the "Expanding the Spirit of Quality in VET" project. A 2012 project run under the Leonardo da Vinci program of the European Union. The "Expanding the Spirit of Quality in VET" projects' purpose is the development of guidelines to enhance the impact of the quality assurance policy of educational institutes on the primary process. In the project partners from Austria (Quality Austria), Belarus (RIPO), Italy (Friuli Venezia Giulia School Inspection), Netherlands (Revalento),  Sweden (Folkuniversitetet Uppsala, also being the coordinator), Turkey (Beypazari District Directorate for National Education) and Russia (Institute of Economics, Management and Law of Kazan, N.P. Pastuhov's State Academy of Industrial Management and Toms State University) have been working together closely to collect  information from the educational sector for the development of these guidelines. For the  development of the guidelines in the project several steps need to be taken. The first step is research regarding the current introduction, preparation, facilitation and evaluation of quality initiatives in education. What do teachers and managers think is helping or hindering their actions regarding quality of education? This part of the research was done through an online questionnaire. The outcomes illustrated that teachers and managers differ in their perceptions of quality measures, their origin and the way they are dealt with. The results in Austria, Italy, Netherlands, Sweden, Russia and Turkey showed that  compared to managers teachers have a different perspective on why quality initiatives are started (teachers more often mention external factors as a trigger). Also, compared to managers, teachers are far less positive on:  whether the objectives of the initiative are clear, regarding the impact on the primary process, regarding the amount of time these initiatives take, regarding the way they are facilitated and the way they are managed, regarding the way they are communicated, evaluated and in the end implemented. Participants have also been asked to give advice on how to overcome this mismatch. The red line in all responses in the different countries is: create a culture of sharing and communicating and learning from experiences without fear of making errors, find a common language to talk jointly about issues the organization wants to achieve and start communicating at the very early stage. The above findings have been translated into several thesis regarding potential underlying processes.  In the next step these findings have been discussed in focus groups, seminars and interviews, again with teachers and managers from secondary education, as well as initial vocational education and higher professional education. In this stage of the project  over 300 teachers and managers of the different countries have been involved . [caption id="attachment_414" align="aligncenter" width="613"]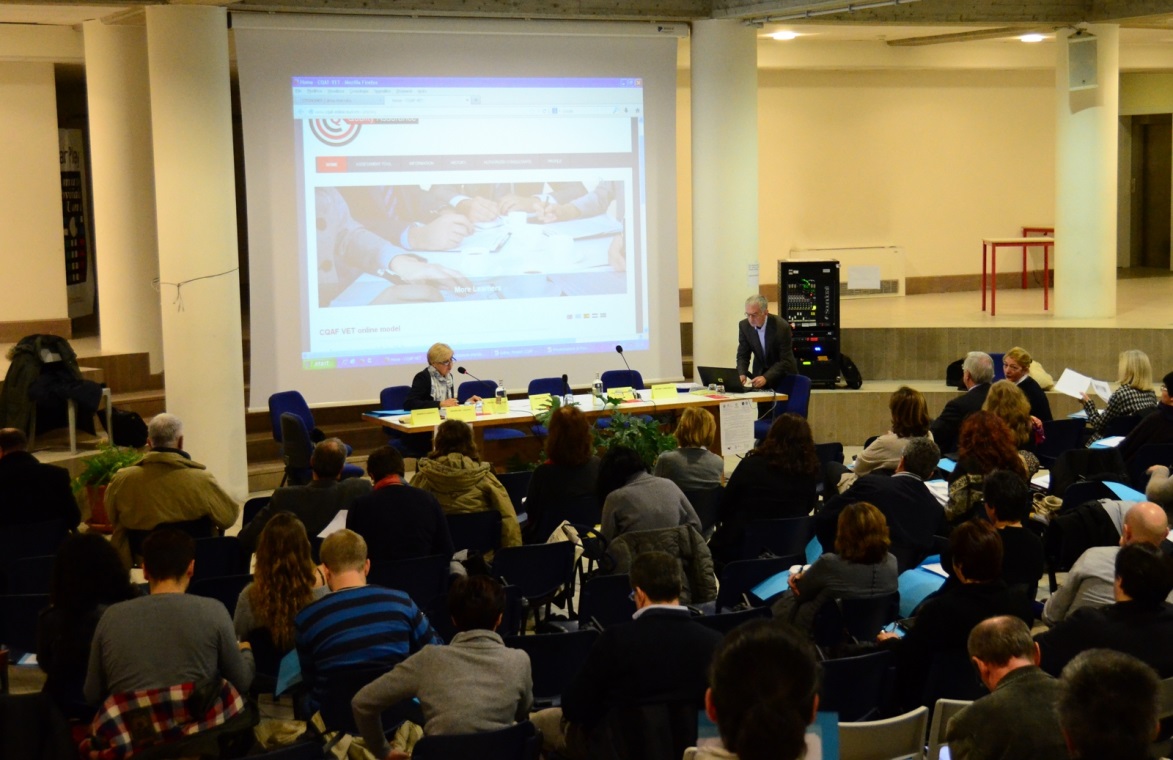 Udine, Italy, 21st of November, 2013 seminar on project findings[/caption] In general  in all countries the initial findings have been confirmed again, illustrating the gap between managers and teachers regarding quality initiatives, why they are good for and how they have been implemented.  When asked how organizations could deal better with quality initiatives participants mentioned issues like: "create openness and transparency, treat each other (as well as students) with respect, share responsibilities, create co-determination, arrange for proper time-resources, create realistic expectations, share benefits, reduce administration, create ownership, create development opportunities, plan for the complete PDCA-cycle". The final step of the project will address the translation of the above findings into guidelines and generate feedback on their applicability in different workshops and interviews in the partner countries. This will be arranged for in the period of spring 2014. The current findings however made already clear that within educational institutes managers and teachers need to redefine their language and communication on quality issues.  One possible way of doing this might be by a tool developed in another European project: CQAF-online. In this project an online tool has been developed  which can be used as a start for this kind of communication. The online tool consists of three sets of questionnaires, each one addressing one important axe of education: content, organisation, learner.  By answering the questionnaire jointly, both management and team together, the organization works toward a more open culture, contributing to a common understanding of quality and how quality can contribute to better education. The tool will generate feedback in the form of a spider web diagram regarding the current level of quality assurance in the depicted areas.  This feedback can be used to discuss new quality initiatives and / or whether they are needed. This time not anymore initiatives driven by management needs, but by common understanding and urgency. More information on the project, the online tool and how it can be used is found on the project website:
www.cqafonline.eu
.